GET YOUR BUSINESS UPGRADED TO LED
CONTACT US FOR A FREE CONSULTATION
ACCREDITED PROVIDER OF THE NSW ESS
ABN 96629709673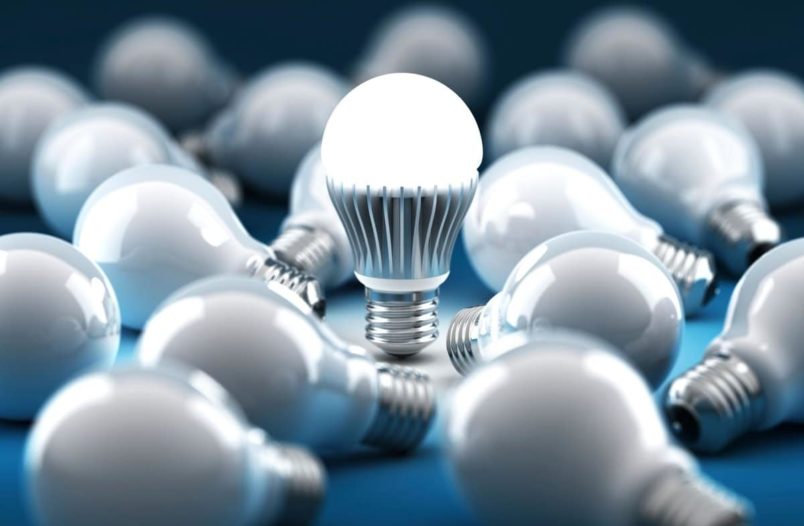 What is the NSW Energy Savings Scheme (ESS)?
The ESS is a NSW government scheme designed to reduce electricity by creating financial incentives for households and organisations to invest in LED upgrades to save energy.
Accredited Certificate Providers, such as  FREEWATTS PTY LTD are responsible to implement the ESS to help NSW households and small businesses save energy by supporting energy efficiency programs, such as LED lighting upgrades.
How does ESS work?
FREEWATTS PTY LTD can create Energy Savings Certificates by carrying out LED lighting upgrades, which will reduce the amount of energy used on households or businesses.
For each megawatt hour of energy saved, FREEWATTS PTY LTD will create one Energy Savings Certificate (ESC). These Energy Saving Certificates are then sold to scheme participants such as energy retailers, who have an obligation under the Energy Savings Scheme to meet energy saving targets.
How does the ESS benefit me?
It will subsidy most of the costs involved in the lighting upgrade, such as the LED lights, electrician's installation, shipping and recycling of the old lights.
The cost of upgrading 100 fluorescent lights performed without the subsidy of the ESS would cost approximately $10,000, however, with the ESS subsidy, it would only cost $33.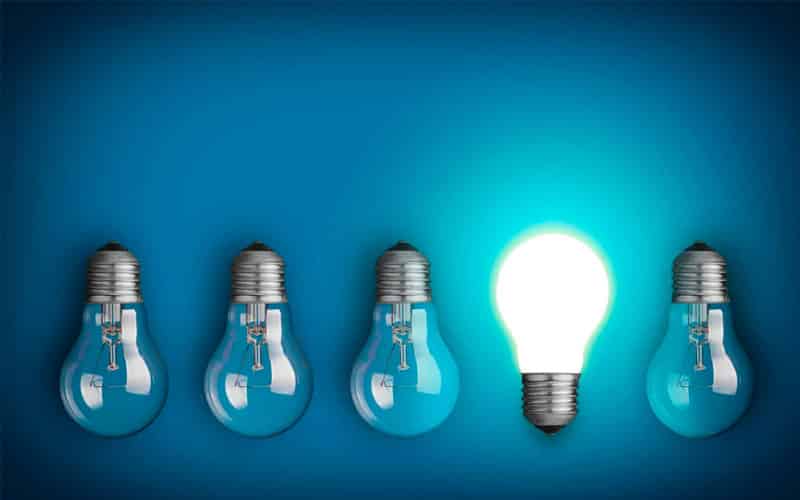 WHAT ARE THE ADVANTAGES ?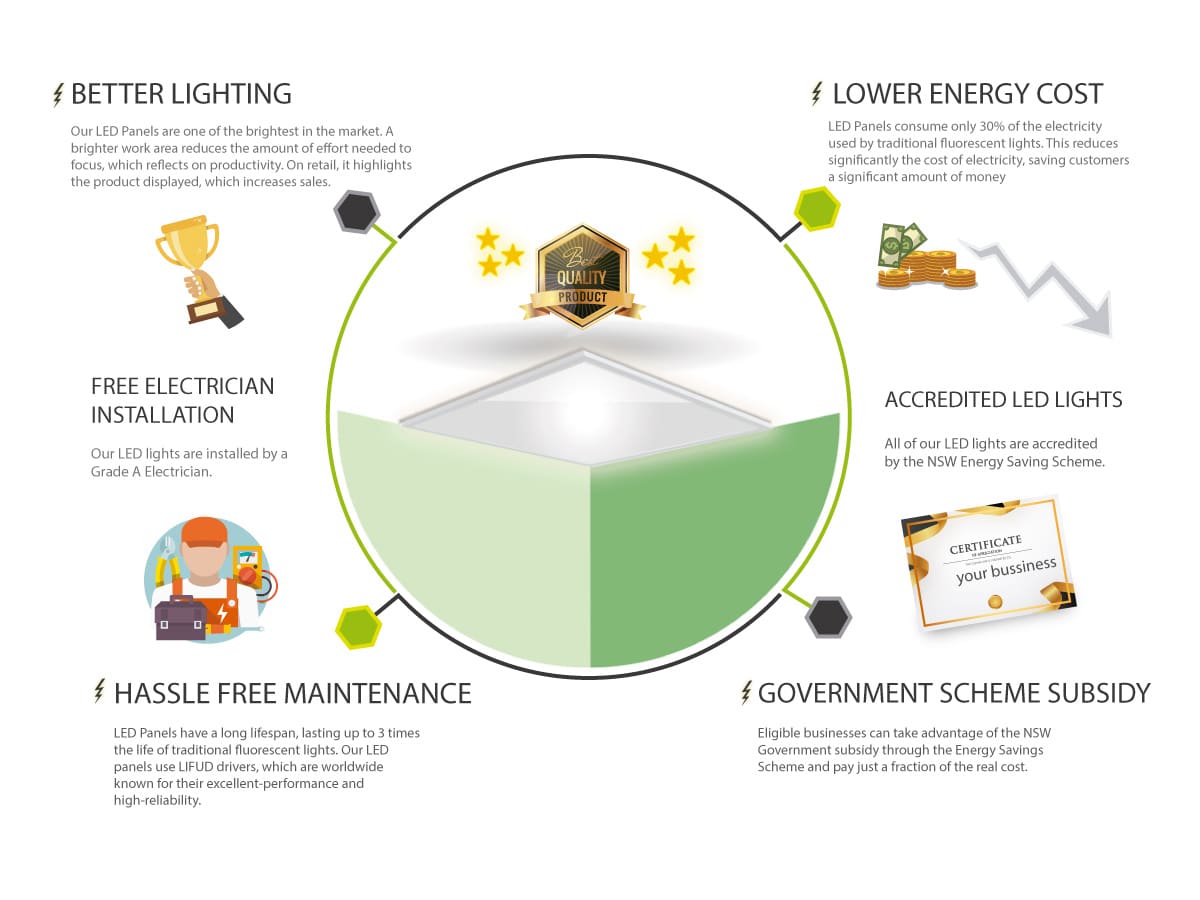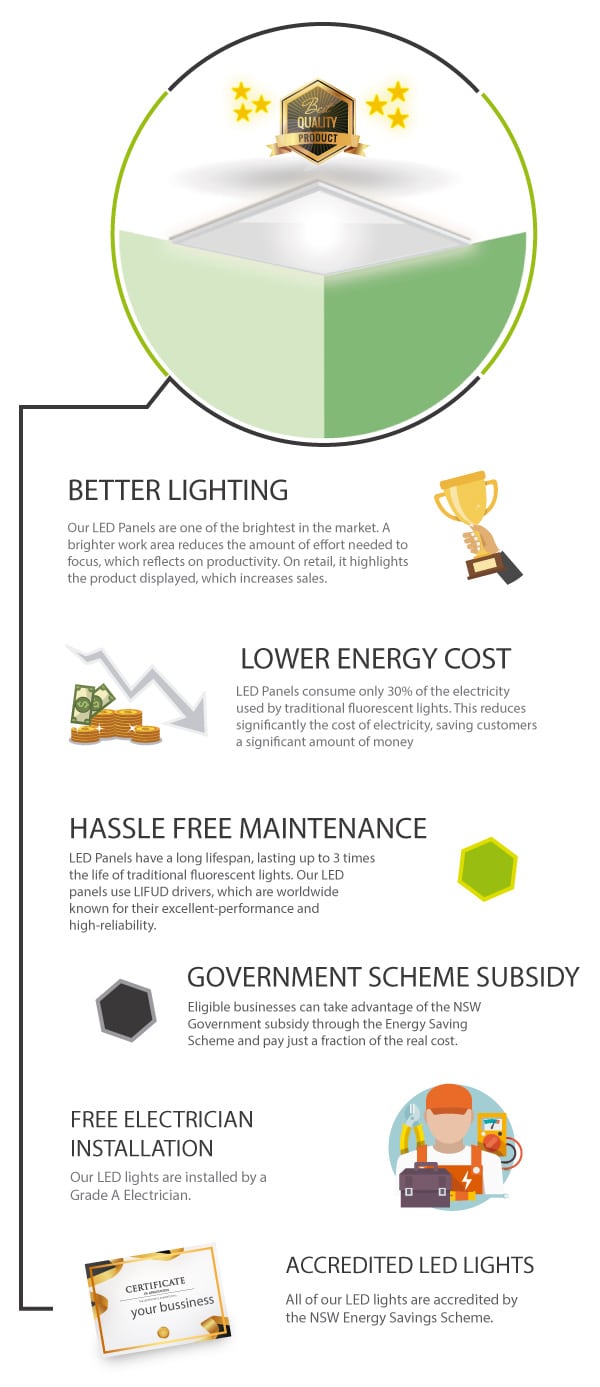 HOW TO GET THE LIMITED OFFER?
CHECK YOUR
ELIGIBILITY

ONLY IN CASE NEEDED
Power Plug - $15.00 (GST Included).
LED Panel Frames - $50 (GST Included).
Dimmer disabled - $15 (GST Included).
Ceiling above 3 meters, repairs, wiring, new installations, fittings - Will need to be quoted.
CHECK YOUR POTENTIAL YEARLY SAVINGS
NUMBER OF FLUORESCENT LIGHTS
ENERGY SAVINGS PER YEAR
0 Kwh
RETURN OF INVESTMENT(YEARS)
0 Years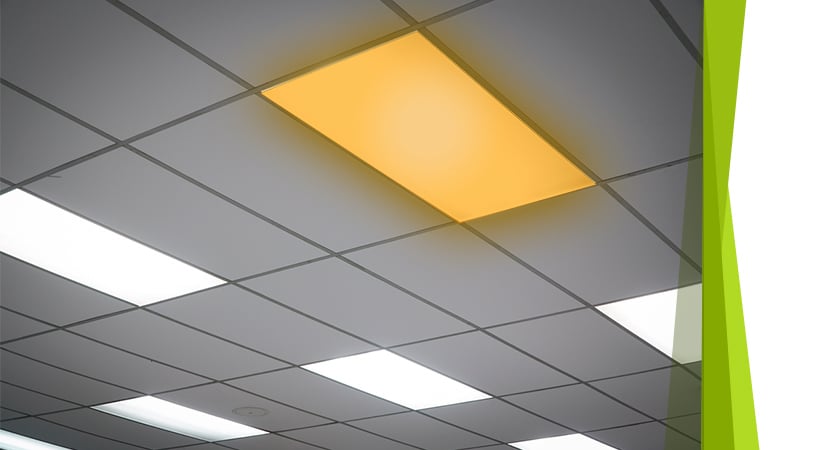 OUR LED PANELS WILL NEVER TURN YELLOW
Have you ever noticed that some LED panels have turned yellow after just one year?
Be aware of suppliers providing you with cheap LED Panels that have a Light Guiding Plate (LGP) made of polystyrene (PS), which is the material used to make disposable cutlery and packaging.
Our LED panels are made with a Light Guiding Plate (LGP) made of Polymethyl methacrylate (Acrylic), which has a high heat tolerance and resists UV light, so they will never turn yellow.
FREEWATTS PTY LTD is one of the very few Accredited Certificate Providers(ACP) of the NSW ESS for small businesses.
More information on the NSW ESS as well as the ACPs can be found at www.ess.nsw.gov.au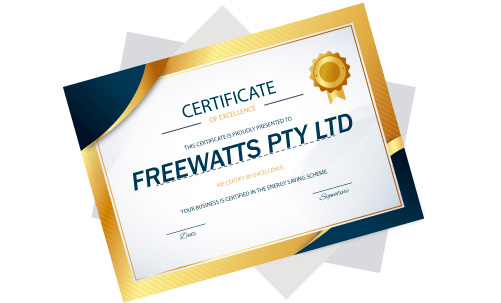 Eligibility requirements under the Home Energy Efficiency Retrofits method  of the NSW Energy Saving Scheme(ESS).
Offer only for NSW.
Offer only for small businesses.
Offer per site.
Electricity consumption must be below 100MWh per year or 273KWh per day.
Scanned copy of the electricity bill will be required when is a small business.
Pricing is based on standard height ceilings, with standard removable, light fittings that have surface sockets installed.
Minimum of 4 lights to be replaced in order to obtain the offer price. There is no upper limit.
Lights to be replaced by LED panels must be grid ceiling lights known as troffers with  2 x 1200 T8 or T2 fluorescent lights.
For batten replacement offer, customer must have a batten light containing  2 x 1200 T8 or T2 fluorescent lights ad must be in working conditions.
Payments to be done by Bank deposit, Credit Card or Paypal. Cash is not accepted.
Price includes GST and Installation.
All light fittings must be in working order and accessible from within the premise.
Photographic evidence of the premises, old lights and new lights installed will be required to comply with the NSW Energy Saving Scheme.
Customer Nomination and Post- Implementation declarations will be required in order to comply with the NSW Energy Saving Scheme.
Customer must have a valid ABN and registered address, which must match the address on the electricity bill.
Products shown on the website are only informative and may vary to the products to be installed on site depending on availability. However FREEWATTS PTY LTD will only install LED lights approved by the NSW Energy Saving Scheme.
All removed products will need to be removed to be properly disposed according to the NSW ESS.
35W and/or 50W Halogen MR16 and/or GU10 downlight replacement is available for residential and small businesses. LED lights will be replaced only if existing transformer is compatible according to the supplier compatibility list. Minimum of 20 halogen downlights to be replaced. All dimmers will need to be disabled at an extra cost per dimmer of $20.00(Including GST).
LED lights come with a 1 year manufacturer's warranty unless specified otherwise.

In the case that the product is no longer available on the market, a similar product will be supplied.

One-year-warranty on the labour.
FREEWATTS PTY LTD's policy to respect your privacy regarding any information we may collect from you across our website, https://freewatts.com.au, and other sites we own and operate.
We only ask for personal information when we truly need it to provide a service to you. We collect it by fair and lawful means, with your knowledge and consent. We also let you know why we're collecting it and how it will be used.
We only retain collected information for as long as necessary to provide you with your requested service. What data we store, we'll protect within commercially acceptable means to prevent loss and theft, as well as unauthorised access, disclosure, copying, use or modification.
We don't share any personally identifying information publicly or with third-parties, except when required to by law.
Our website may link to external sites that are not operated by us. Please be aware that we have no control over the content and practices of these sites, and cannot accept responsibility or liability for their respective privacy policies.
You are free to refuse our request for your personal information, with the understanding that we may be unable to provide you with some of your desired services.
Your continued use of our website will be regarded as acceptance of our practices around privacy and personal information. If you have any questions about how we handle user data and personal information, feel free to contact us.
This policy is effective as of 11 September 2019.